Pesticide Management in Vietnam
1. Pesticide regulation 《Plant Protection and Quarantine Act》
2. Pesticide administration department   The Plant Protection Department (PPD) of the Ministry of Agriculture and Rural Development (MARD) is responsible for pesticide registration. PPD is responsible for plant protection and plant quarantine, including import and export of pesticide and domestic sales, as well as import and export quarantine and domestic quarantine.
Meanwhile, Ministry of agriculture has set up the "Northern Pesticide Control Centre, NPCC "and" Southern Pesticide Control Centre, SPCC ", which are responsible for quality inspection of pesticide import and export.
3. Registration Types and Material Requirements
Registration Types   Registration certificates include: Trial registration; Official registration; Supplementary registration; Renewal registration.
Registration procedure   The registration procedure flow chart is shown below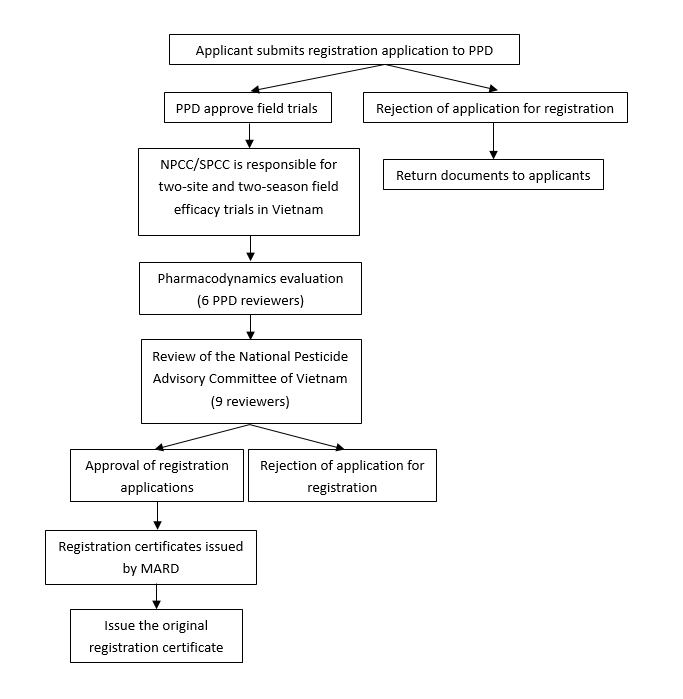 Material Requirements
1) Registration Application Form   In the process of filling in the form, data of physical and chemical properties, toxicity and residue need to be filled in, which can be obtained through Internet inquiry.
2) Declaration of Intellectual Property Rights  If the product involves patents, patent documents need to be provided, otherwise other companies are free to register the same product in Vietnam.
3) Certificate of authorization   Authorize local companies to register the product and use data.
4) ICAMA Free Sales Certificate   At least registration of active ingredients is required.
5) Certificate of Origin   It is not a mandatory requirement, but it can speed up the audit.
6) Research Report   PPD does not require documents such as full analysis reports and toxicity reports, but providing such reports will greatly expedite review of registration data.
7) Label and original sample 1g.
8) Field pharmacodynamic experiment report   The report must be conducted in Vietnam, requiring two seasons each in the north and south. And it must be the same season of the year.
4. Registration approval time
1) Approval of field trials   One month after the data submission, PPD will issue the approval for the experiment, and the field experiment can be started.
2) Field trials    The field trials need to be carried out in 2 fields and 2 seasons in each region of north and south Vietnam, which usually takes 18 months.
3) PPD Data Audit   A panel appointed by the PPD will review the data and field efficacy reports, which will take about six months. The total registration time is 24 months.